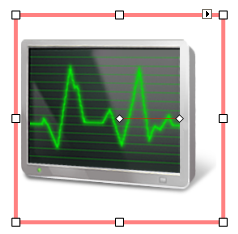 Displays an image.
This block can be used to add an image, such as a company logo, to a program. Images are not compiled as code, and are not downloaded to the controller.
Note

:

Images should be used sparingly. Excessive use of large images slows down the launch of the Catalyst plug-in as the images must be loaded from the LNS database where they are stored.
Select an image to display by clicking the SmartTag.
Properties

Slots

Description

Image

Click to select an image.

Horizontal Resolution

Displays the horizontal resolution of the selected image.

Physical Dimension

Displays the Width and Height of the original selected image.

Pixel Format

Displays color depth and color scheme.

Raw Format

Displays file type.

Size

Displays width and height of original selected image.

Tag

Enter a descriptive tag.

Vertical Resolution

The vertical resolution of the original selected image.

Opacity

Select 0, 25, 50, 75, or 100% opacity. Decreasing opacity increases transparency.