1
1.If the link that you placed in the previous section is not routed as you wish, then re-route the link manually as follows:
2.Regardless of whether the link is green (in focus) or black (not in focus), double click the link. The link routing property will toggle: If the link routing property was True it will become False. If the link routing property was False, it will become True.
If the link was black, the link will turn green. Square and diamond shapes will appear on the link. If the link was green, it will not change appearance. Only the routing property will change.
3.Click and drag a square shape to move a link segment.
4.Click and drag a diamond shape to break and then create a new link segment.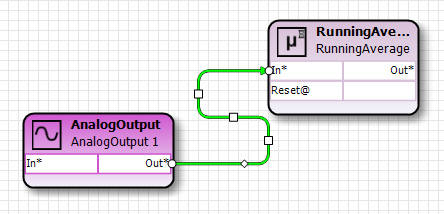 5.To return to the Shape Selection function, press Escape, or click the Select Shapes button.

. The link will remain routed as you selected.