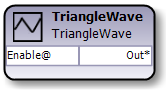 Outputs values of a triangle wave defined for the specified period, minimum, and maximum. The output starts when the block is enabled and is produced on every cycle of the program.
Inputs






Slots

Type

Default

Description

Enable

Digital

True

When True, produces the specified sine wave

When False, the output 'Out' will be set to property 'DefaultValue'.
Outputs




Slots

Type

Description

Out

Digital

The current value of the triangle wave.
Properties




Slots

Description

DefaultValue

The value that the block output will take on when disabled

Max

The highest value in the triangle wave.

Min

The lowest value in the triangle wave.

Period

The amount of time, in milliseconds, over which a full cycle of the wave occurs.