This section 'Using the Project Outline', is included only to demonstrate the uses of the Project Outline. It does not modify the example.
1
1.On the right side of the Catalyst window, close the Properties area by clicking on the 'x'.

2.If necessary, click and drag the bottom border of the Project Outline so that you can view the entire Outline area.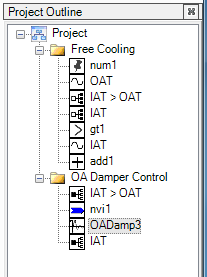 3.Click on the name of any programming block in the Free Cooling folder. The focus immediately moves to the page and to the programming block that you clicked.
4.Click on a programming block in the OA Damper Control page to return to page 2.